Bibar is Subrata Sen's fifth movie in as many years after Ek Je Aachhe Kanya, Swapner Feriwala, Nil Nirjane and Hothat Nirar Jonno.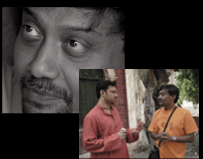 A former journalist with mainstream newspapers, Subrata Sen's first movie struck a chord with urban educated youth. With a comparatively unknown cast (Konkona Sen Sharma was introduced in this movie), the film fetched accolades in India as well as abroad. He is credited with making the first full-length digital film in India (Nil Nirjane), which won a few international awards and popularised Bengali alternative music to the audience.

Dubbed as "maverick" by some film-critics, Subrata always looks for subjects which are not run of the mill.